The palace
The Palacio de Linares, headquarters of the Casa de América, is in the centre of Madrid, in Plaza de Cibeles (between Paseo de Recoletos and Calle de Alcalá). Building work on the palace began in 1877 by express command of the Marquis and Marchioness of Linares, José María Murga y Reolid and his wife Raimunda Osorio y Ortega, and was completed in 1900.
The architects commissioned to design the palace were Carlos Colubí, Adolf Ombrecht and Manuel Aníbal Álvarez (the latter was responsible for the marble garden staircase, the stables and the Casa de Muñecas – the dolls' house). Although the palace was originally built using the distinctive limestone you see today, the inside is richly decorated with tapestries, glass from Antwerp, Parisian lamps and bronzes plus a great many paintings by well-known artists such as Francisco Pradilla, Manuel Domínguez and Alejandro Ferrant. Luxurious fabrics and precious ornaments sit alongside materials such as marble, bronze, noble woods and mosaics.
The external decorative features (angels, ornamental vases and coats of arms) are the work of sculptor Jerónimo Suñol.
Nowadays, the palace's stately rooms are used for all kinds of institutional and private events.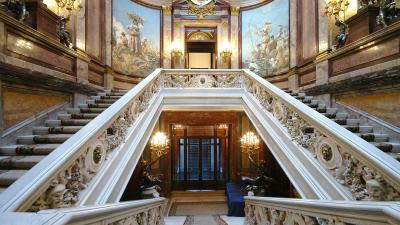 arte y arquitectura
Todo comienza en nuestra escalera principal

Casa de América offers you the chance to hold all kinds of events and corporate meetings in its magnificent headquarters, the historic Palacio de Linares, built in the late 19th century and perfect